Next day we arrived in Santa Clara, a university town and place of Che Guevara's decisive winning battle during the revolution. After asking around, we were lucky to get to know Jorge, our host for the next four days. In his place we felt very comfortable, the food was great and Jorge had very good advice about what kind of things to do. After all that car and horse riding it was like coming down and being home.
We watched baseball and an American movie on tv. A mistery I could not solve: how did this very badly scripted and even worse acted Californian business thriller end up on Cuban tv? Anyhow, bed, tv, relax, diner, we recharged. Then it was time go out. It was friday night and the town full of young people, we asked Jorge for advice and he sent us to "El bosque".
A place which was going to be called "muy problematico" by anybody we would ask later.
But what a place! Open air, heavy Cubaton (listen above) from a massive soundsystem, dancers on stage, filled with well dressed party hungry people. The air seemed somewhat loaded with energy but hard to tell where that energy was going to. All eyes on us, the only Westeners around. Smiles, curiosity, hellos, almost a bit intimidating.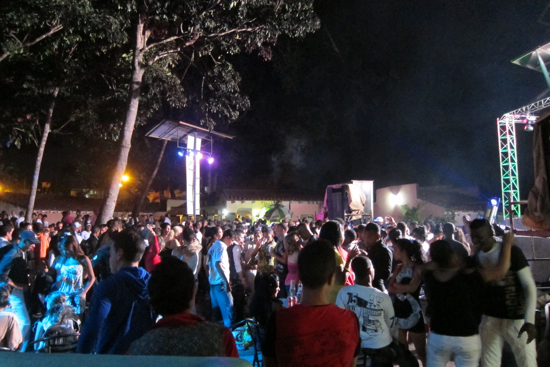 Until we knew what to do, we had a guy on our side who looked like Mike Tyson and would not let us alone for the rest of the evening. He was clearly a "jinetero", trying to get drinks, trying to make friends, trying to make business. Friendly until the point we tried to get away. He was very annoying and intentionally scared everybody away who would come near to us, like we were "his victims". That kind of spoiled the evening. We should have just been unfriendlier probably or even threat him with the security or police as we were told later by Jorge.
That's a side of Cuban culture you have to accept as a fact also: there will always be somebody who will try to make business with you, get you a house, cigars, a horse ride, a girl. It's annoying because you don't know if a person is really interested or just wants to make a dime and you cannot really ask for advice since everybody will always know "the best place" which surprisingly is the one which grants him a commission. Anyhow, we had to learn how to live with it and became quite good in ignoring people in the end. The first line always is "where you from?" so in the end we had a little challenge who would come up with the best place. "Ucraine." "Hell." Mars."
Our basecamp Santa Clara is in the middle of Cuba between north and south coast, so it was perfect to make trips in any direction. The first one took us to Cayo Las brujas which has some famous beaches which were not easy to find and are very stony, but also very lonely. And it also has some infamous tourist resorts. We took the chance to walk around in one of them which looked like a total fake colonial town and had all the wonderful things you would expect: Pools with water ballet, all inclusive buffet, volley ball, a beach crowded with people wearing wristbands. And who probably won't see anything else of Cuba.
What a contrast to the rest we had seen, it made me feel like being in a zoo. We were happy to get out. On the way back to Santa Clara we we passed the very old and quiet, almost deserted town of Caibarien whilst enjoying another of this magical sunsets all red and intense.
Back home, we had some drinks in the street with guitar playing students. That fortunately rebuilt our trust after the Mike Tyson episode.
Next day we went south to see Hanabanilla, Cuba's biggest storage lake and took a long hike around its coast.
The highlight was finding a wild orange tree loaded with fruit. Eating it was quite a disappointment, hours later it still felt like I had had a drink of pure acid. Hey, that's nature! Another highlight was seeing these little fellas:

(in case you don't see it: It is actually a socialist robot army, ready to fight back at any time.)
Back in the house we overheard baseball on the radio. It was live and it was in Santa Clara so we went straight there to see a game of Cuba's most popular sport. The game was not very good, hardly any batter hit the ball and Santa Clara won the game with only three points in total. But the whole atmosphere was cool and the sandwiches with ham were amazing. Here, all was paid in pesos nacional, the baseball ticket equalled 8cents, the sandwich 20. And we won!
Read part 1 and part 2 or part 4 and drop me a comment if you want to know more details!