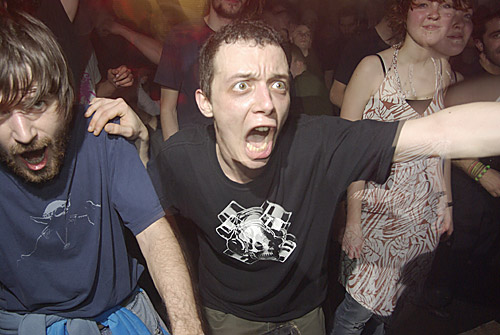 Picture by PhotophunkWhat's on? Well certainly Transmediale, the big media art festival, the 20th of its kind (well some are a little dissapointed by this years issue, Photophunk has some pictures).
De-bug has the necessary club dates, like Freeform at Weekend or 4 Hero in Café Moskau.
Stellabar celebrates their new party series Dysconnect and
there's a nice blend of Tango and Techno at Club Rodina (below Jannowitzbrücke) with jörg buntenbach (tango), a guy called gerald, peter nikolai [4augenvögeln], gregor heyden [klangsucht] and demir [pentagonik].
Finally, my friend, superentertainer Yaneq hosts the opening of this years Party Arty sessions at Galerie Tristesse Deluxe on Karl-Marx-Allee 137 (starts 19h)